At Stud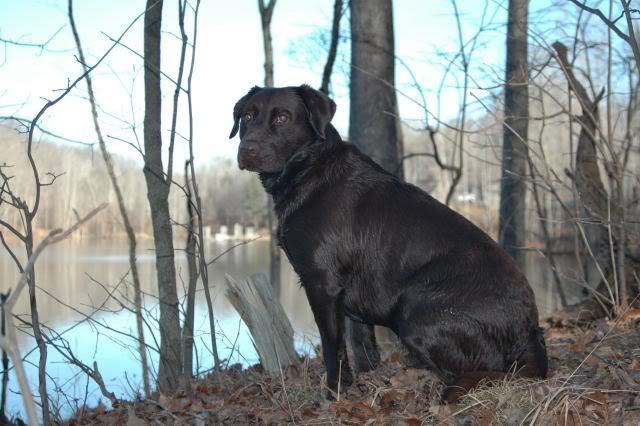 GRHRCH Joe's Chattahoochee Riptide UH MH – "Hooch"
HRC 1,500 pt club
1,505 current pts
GA DU Retriever Challenge – 5th place
65 straight HRC Finished passes
He is the all-star of Candler Creek Retrievers, my hunting buddy, my best friend. Whether it is picking up woodies in our backyard, hauling in greenheads over the Midwest levees, or blowing the curve at a hunt test he shines! Hooch is the quintessential gun-dog stud. Packed in a small 60 lb frame, he won't tip the duck boat, doesn't take up much room in the blind, and doesn't overheat too quick. He is an absolute rock on the line, runs some of the best blinds around, steers like a Cadillac, and is an absolute pin point marker.
HRCH Chattahoochee Bones MH QAA – "Bones"
HRC 500 pt club (750 current pts)
"High Roller", "High Drive", "Lotta Go"…You've heard em all before. You haven't seen it till you've seen Bones run. This dog can flat out move! Coupled with his athleticism is his intelligence and unbelievable natural ability. Wonderful marking skills and really straight lines make running him a lot of fun! The best part of him though is his switch. In the house he is as gentle and calm as one could ask for. He asks only for a little attention and the occasional treat!
HRCH Shadows True Grit – "Rooster"
HRC 1,000 pt club
1st Finished pass @ 10 months
HRCH @ 15 months
1 Grand pass
Rooster is an exciting little dog. He exemplifies what the HRC is all about. 65 lbs of retrieving machine, Rooster has picked up hundreds of ducks. In his 7 years he has failed only 1 test! He is amazing and his puppies tend to take after him as well!
HRCH Roosters Blonde Bailey – "Bailey"
Bailey is one of the most exciting young dogs in my kennel. He is VERY consistent from day to day and I feel he has more natural talent than any dog I have had my hand over! Phenomenal marking ability, super intelligent, and steady as a rock really make handling him easy. He is also a great hunting partner. His 1st season in the field he picked up approx 100 birds without the first issue.
HRCH Talmo Duck Assassin Jackson – "Jackson"
SHR at 9 months
HR at 18 months
HRCH at 30 months
Over 1,000 birds picked up in the wild
Jackson is bar-none one of the best dogs I have ever hunted over. Attentive and quiet when the birds are working; hold on when you cut him loose! Jackson has retrieved hundreds of birds from Georgia to Arkansas, Kansas, and half the Eastern seaboard! He is a gentleman in the house when the hunt is over as well.