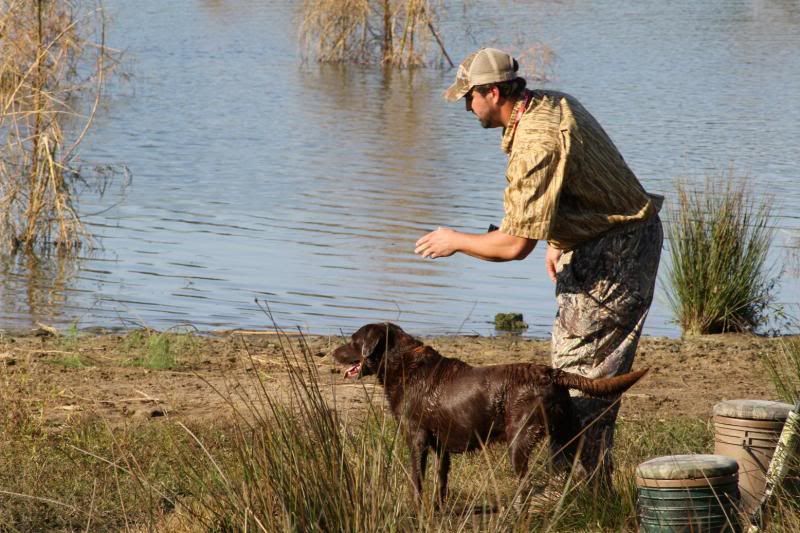 The success of your dog depends greatly on the strength of his foundation.  Here at Candler Creek Retrievers our process starts with sound obedience.  From obedience your pup progresses through Collar Conditioning, Force Fetch and various handling drills.
We use the HRC title rankings as a grading system even for those who choose not to test.  A started dog is the beginning level, or as we say, just getting started in this game. When dogs begin to test and/or increase performance in the filed, we compare them to a dog with an HRC Started titled (SHR). This dog is capable of picking up single marks (up to 65 yds) on water and land, and most of the time is in the process of completing force fetch.
A dog competing in the HRC Seasoned level (pursuing an HRC Hunting Retriever title "HR") is capable of picking up multiple retrieves (usually doubles up to 100 yds) and will handle fairly reliably on short blind retrieves (up to 100 yds) on both the land and the water.  This is also what we consider a basic gun dog.  A dog of this level should make a fairly strong hunting partner.
A dog that is running tests at the finished level (seeking the HRC's HRCH title) is the quintessential gun dog.  Steady, capable of picking up multiple marked retrieves, and able to handle through all types of blind retrieves, a finished retriever is what every hunter should long for and what every retriever should strive to be.  HRCH: because our dogs hunt!
There is only one higher level in the HRC higher than an HRCH.  It is the highest of them all in the hunting dog world.  It is reserved for only those dogs that truly are the best of the best.  It is the GRHRCH title, or Grand Hunting Retriever Champion.  This title is acquired by first acquiring an HRCH title, then accumulating 300 HRC championship points (15 per finished pass), and then and only then, passing the International Grand event twice!! Just to put it in perspective of how difficult it is there are only ~700 dogs EVER to achieve this title since the HRC's inception in 1984, while over 5,500 have achieved their HRCH.  We do compete in the "Grand" when we have dogs capable of performing at that level. If you're interested in pursuing a GRHRCH title, we would love to talk with you about the commitment necessary to get to that level.